about
company
productions

→

the noble nine




→

upcoming
contact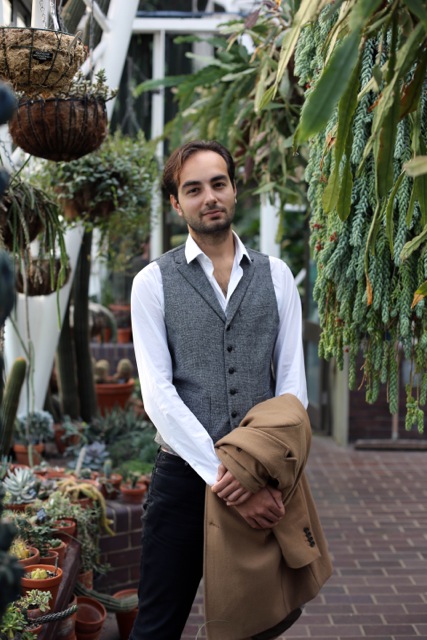 J O S H C O C K R O F T
producer

Josh Cockcroft is a producer for film and theatre.

Beginning his career in theatre, producing small scale touring shows and runs at the Edinburgh Fringe, after working for organisations such as the BBC and Entertainment One, he completed his first film as producer in 2019, 'No Fathers in Kashmir'.

He has more recently been working on theatre-cabaret crossovers, such as Sods Law by Lord Hicks and the eponymous Witt 'n' Camp and is working on a small slate of projects for TV and film.

Alongside his producing work, he has authored a number of research projects on the creative industries and is currently working with the Esmee Fairbairn Foundation to improve how the independent philanthropy sector works.
P O L I N A K A L I N I N A
director


Polina is a Russian theatre director working in the UK. She made her professional debut at the Orange Tree Theatre with Dutchman by Amiri Baraka, starring David Ajao, Paapa Essiedu, and Sally Oliver.

New plays, operatic visuals, precise anarchy, and large-scale ensembles are at the core of her practice.

Director: Anna Karenina (Clifftown Theatre) The Noble Nine (Vault Festival) Islanders (Soho Theatre) Julius Caesar (Globe Neuss) Playboy of the Western World (Southwark Playhouse) Flashes (Soho Theatre) Romeo and Juliet (Tobacco Factory) Dutchman (Orange Tree) Overruled (Old Red Lion).

Associate Director: The Events by David Greig (Traverse, Young Vic, Guthrie, The Curran San Francisco, RFH).

Polina is a JMK finalist, a MGC Futures Bursary recipient, and a member of the Lincoln Centre Theatre Directors Lab in New York. She has taught and directed at Central, East 15, Guildhall, and Mountview.
M A T T P A R V I N
writer
Matt's plays include Jam, which premiered to critical acclaim at the Finborough Theatre in 2017. Matt received an Off West End Awards nomination for Most Promising Playwright, and the play text was published by Oberon Books.
The Noble Nine premiered at VAULT Festival 2019. He has been commissioned by the Nuffield Theatre, Mountview and Oxford School of Drama, and has had short plays on at the Arcola, the Orange Tree, the Bunker, Theatre503, and Clapham Omnibus. His short play The Hyperviolent King of the Universe was published by Litro Magazine.
He won the Oxford New Writing Festival 2013 Best Script Prize, has been shortlisted for the Kings Cross Award for New Writing 2015 and the Marlowe Society's Other Prize 2018, and longlisted for the Bruntwood Prize twice. He has been on the Royal Court Young Writers Programme, the Orange Tree Writers Collective, and the Arcola Writers Group.

Matt also has a number of screen projects in development. These include an adaptation of his play Two Roads, in development with Bird Flight Films, and his TV drama pilot Roost. Roost was shortlisted for 2019 All3Media New Script Award at the Edinburgh International TV Festival New Voice Awards.
C O L L A B O R ATORS

︎︎︎
E L E A N O R T I N D A L L
writer

Eleanor Tindall's work has been showcased at the Arcola Theatre, Theatre Royal Stratford East and the Almeida.

She was part of the Soho Theatre Writers Lab 16-17 and the Young Friends of the Almeida Writers Development Workshops in 2015.

Her debut play, Before I Was A Bear , premiered at the Bunker Theatre in November 2019 to critical acclaim and received an OffCom Commendation from the OffWestEnd Awards.

Praise for Before I was A Bear:

★★★★★ Gorgeous, sparkling and deliciously weird comedy packs serious emotional weight. Tindall's play has the energy of a stand-upcomedy set and the brutal power of a confession. The Stage

★★★★ Eleanor Tindall's writing paints rich, appetising pictures with sparky economy of language. Reviews Hub

It captures the anonymity of London, the emptiness of the bustling city, the hole at its heart without friendship, love and community. Lyn Gardner for Stagedoor

Tindall's monologue sings with insight into what it is to inhabit a body that is gendered female…Before I was a Bear is a captivatingand compelling shaggy bear story that bristles with playfulness. Exeunt
E M M A J U D E H A R R I S
director
Emma Jude Harris is a director and dramaturg, originally from America. She works across forms in opera, new writing, and classic theatre.

As a director, credits include Cabildo (Arcola Theatre, Wilton's Music Hall), sorry did I wake you (Tristan Bates), Ares (Vault 2019), and the upcoming eco-noir socialist opera The Agency (Tete-a-Tete 2020), on which she is also the dramaturg.

As a research assistant, she has worked on Venice Preserved at the RSC (2019) and Absolute Hell at the National Theatre (2018).

Assisting credits include These Wandering Streets (Barbican and Sound Unbound) The Noble Nine (Vaults 2019); Libuse (UCOpera); and The Fantastic Bohemian (Arcola Theatre). She is the co-founder of Global Origins, a network and platform for international and multicultural artists.